Stop 11: Mt Eden / Maungawhau
Mt Eden (Maungawhau) is one of the most prominent volcanic cones in the Auckland region and offers simply stunning views over the city and harbour.
The summit of Mt Eden rises 196 metres or 643 feet above sea level. On a clear day, you can see many of Auckland's popular attractions including the Sky Tower, the Auckland Harbour Bridge, the Waitakere Ranges and out to Rangitoto Island.
There is no vehicle access to the summit of Mount Eden, but you can walk to the top from our bus stop. The walk is approximately 300 metres long and will take around 10 minutes each way. At the top, you'll find amazing views over Auckland, and the impressive bowl-shaped crater of the volcano, which is 50 metres or 164 feet deep.
Please be aware that the climb is quite steep and requires a moderate level of fitness, and there is no shelter at the top.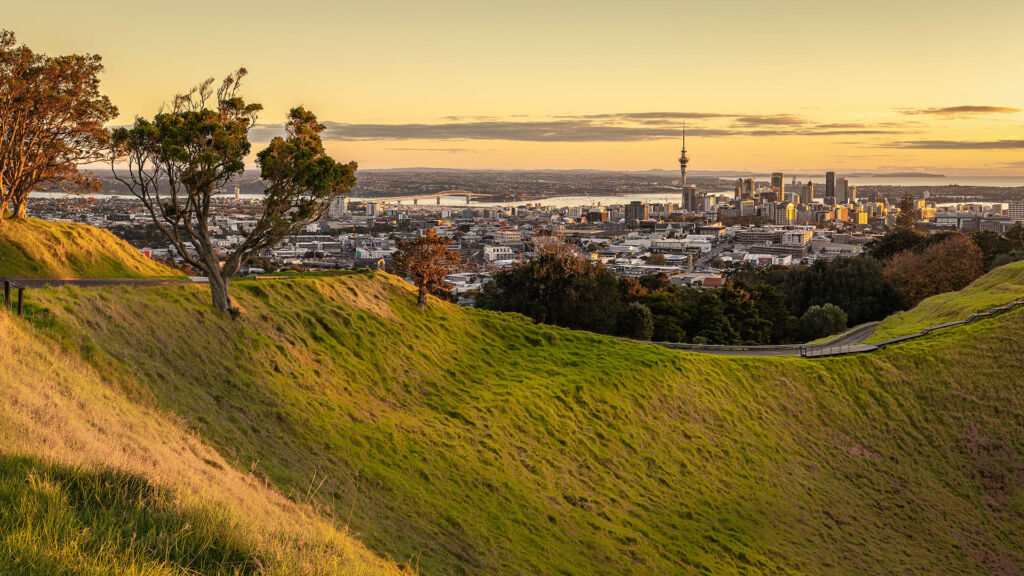 Mt Eden / Maungawhau History
Maungawhau first erupted about 15,000 years ago, forming a huge scoria mound with a central crater 50 metres (164 feet) deep.
In pre-European times, the mountain was used as a pā or fortified village. The Māori tribes dug terraces into the natural slope of the hill and built defensive palisades and ditches around it, with food storage pits inside which you can still see today.
Mt Eden's Māori name is Maungawhau, which means 'the mountain of the whau tree'. This is a leafy shrub with distinctive prickly brown seed pods, which you can see growing on the mountain's slopes.
The British named it Mount Eden after George Eden, first Earl of Auckland. The name was chosen by William Hobson, first Governor of New Zealand, to thank Eden for helping him in his career.
Bus Timetable
First bus: 9.45 am
Last bus: 3.45 pm
Location
Puhi Huia Road, Mount Eden
Opening Hours
The main entrance gates to Mt Eden are open from 7am to 8.30pm in summer, and 7am to 7pm in winter.
Access
Limited wheelchair access
Toilets
Public toilet facilities on summit drive (no toilets at summit)