Stop 12: Kingsland/Eden Park
Take a behind-the-scenes tour of Eden Park, New Zealand's largest stadium, with a rich sporting and social history. The proud home of our world champion All Blacks rugby team and the Black Caps, our national cricket team, Eden Park seats up to 50,000 people.
During your 90-minute guided tour of Eden Park you'll enjoy amazing access, from the changing rooms and coaches' box to the historic No. 1 field. Your expert guide will share iconic moments in New Zealand's sporting history.
The tour ticket includes a complimentary stadium tour souvenir plus a discount on all Eden Park merchandise. Tours run Thursday to Sunday at 2 pm, except on game days. Please note access to some areas is subject to availability on the day.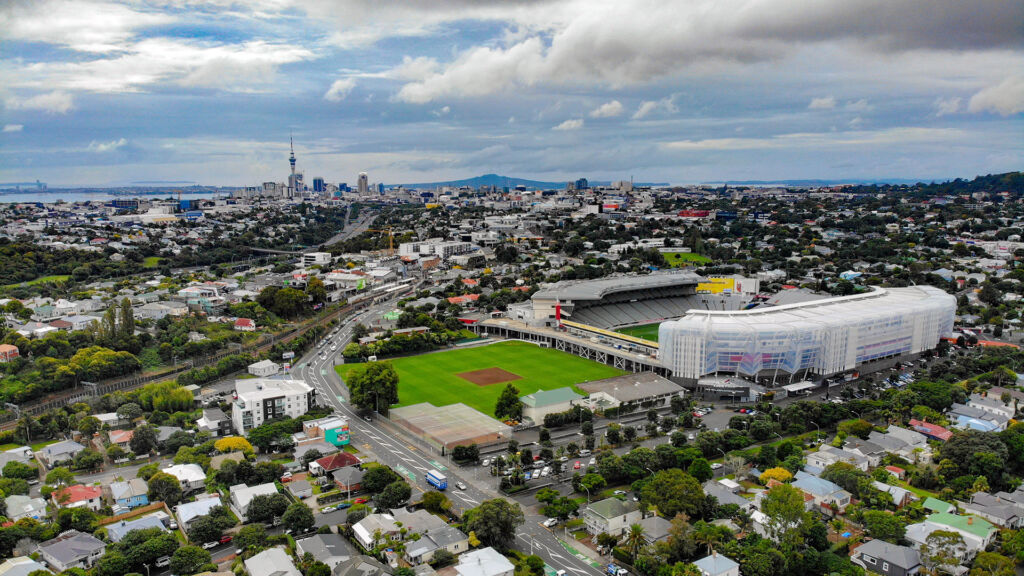 There have been sporting grounds here since 1903, but the name Eden Park was first used in 1912.
The Park became the home of Auckland Cricket in 1910. The Auckland Rugby Union leased the Park in 1914, officially making Eden Park its home in 1925.
In 1987 Eden Park hosted the first ever Rugby World Cup final, which New Zealand won. More recently it was the venue of many matches in the 2011 Rugby World Cup, when we won it for a second time. In 2015 we successfully defended our world champion status in our beloved national sport. Eden Park was also a venue for the 2015 Cricket World Cup.
Statues around the outside of the grounds commemorate some famous All Blacks, including Dave Gallaher, captain of the original 1905 All Blacks team, and Sir Michael Jones, one of the highest rated All Blacks from the eighties and nineties.
A short walk away from the Eden Park stop is Kingsland Village. A busy urban thoroughfare, Kingsland features quirky shops and an excellent array of bars and restaurants. If you're here in the morning you'll find a good choice of cafes, serving breakfast and brunch, where you can join the locals in sipping a quality brew while you watch the world go by.

The neighbourhood is dotted with a number of historic buildings – nudging up alongside classic Kiwi weatherboard bungalows. To learn more about the origins of these places, look out for the plastic plaques attached to their walls – you can scan these with your smartphone to find out more about life in this neighbourhood in years gone by.

In keeping with the arty vibes, the street is scattered with a handful of shops selling unique gifts and goods made by New Zealand craftspeople. From jewellery to homewares to natural health and beauty products – it's a good place to buy a little something that's unique to these parts.
Bus Timetable
First bus: 9.50 am
Last bus: 3.50 pm
Location
New North Road, near Kingsland Station
Admission
Eden Park Stadium Tour: Entry fees apply
Toilets
Toilet facilities available inside